Here at the Fire Protection Industry (ODS & SGG) Board, we are committed to promoting all things new in our industry, especially when it comes to technology for gaseous fire suppression. We have a particular interest in discovering examples of companies that have transitioned to alternative fire systems that do not contain ODS or SGG scheduled agents. Here at the Technology Corner, you will also find information on new Australian and ISO standards, news regarding major technological advancements in the industry and general information on alternative technologies.
If you would like to contribute to our Technology Corner and share your expertise on any of the areas mentioned above, please do not hesitate to get in touch with us by phone on 03 8892 3161 or via email at ozone@fpib.com.au. To learn more about alternative systems used in fire protection, view our factsheet by clicking here.
Analysing the impact of the HFC phase-down to the gaseous suppression market
Since 1 January 2018, Australia has been participating in the international phase-down of hydrofluorocarbon (HFC) under the Montreal Protocol.
Now almost four years into the HFC phase-down, some shifts in the gaseous fire protection market are beginning to occur. Some of these were already emerging prior to 2018 but have now been accelerated as a result of the phase-down.
To get a fire protection supplier's perspective of how the phase-down has impacted the gaseous suppression market, the FPIB spoke with DIS Fire Systems (DIS).
While DIS does not import HFC and is therefore not impacted by quota restrictions, it does buy the agent locally and sells it, so it is well placed to comment on how it has been performing in the market since the phase-down was introduced.
According to DIS Director/Fire Engineer, Neil Zouaoui, the demand for HFC has tapered off as a result of the phase-down, and also because of the comparable price of HFC-227ea (FM-200) to cleaner alternatives like inert gases (IG-55, IG-541, IG-01, IG-100).

IG-541 is proving to be a popular alternative to HFC. (Images supplied by DIS Fire Systems).
"There are certainly more companies out there at the moment that are willing to pursue alternatives to HFCs. What happens is it becomes a snowball effect. Companies get so used to FM-200, but then all of a sudden the business owner realises they can save a bit of money by installing inert gas systems and at the same time are ticking the environmentally friendly box, so it becomes a win-win," Neil explains.
"We've had clients that we've converted from HFC systems to inert gas systems and they've never asked for a HFC quote again," he adds.
While inert gas products have become increasingly popular since the phase-down was introduced, there is another alternative that is not proving to be as popular with DIS clients – FK-5-1-12 (Novec 1230).
This is the closest like-for-like replacement to HFC-227ea, but Neil believes the lack of take up for FK-5-1-12 from his clients could be attributed to a large price discrepancy between it and inert gas products, as well as his view that it does not have the same firefighting capabilities as HFC-227ea.
"It (FK-5-1-12) is a much heavier liquid so it's really hard when we are doing commissioning, especially in smaller rooms, to get it to stay in the room for the same amount of time as FM-200. Because of this, we do tend to push a lot of customers towards inert gases such as IG-55 or IG-541 because they are much lighter and stay in the room longer," Neil says.
While a supporter of the overall objectives of the phase-down, DIS believes that moving forward, more work needs to be put into the development of a product that can replicate the performance of HFC-227ea.
Among the other movements in the gaseous fire protection market Neil has observed since the introduction of the phase-down is an increased demand for IG-541, especially from new data centres. He puts this largely down to overseas influence.
"In most of these data centres the engineering comes from overseas, mainly out of Europe. FM-200 in Europe is almost non-existent because they started pushing for the use of inert gas about 20 years before Australia did. So, what we tend to see is that data centres here will often go off previous data centre jobs in Europe and they'll just specify inert gas, they won't even attempt to look at FM-200 or other HFCs," he says.
While Neil believes Australia has been lagging behind Europe in its transition to HFC alternatives, based on DIS's dealings with clients, he believes the tide is beginning to turn in that space.
He made mention of one large mining company that is a DIS client, stating if it wasn't for their ongoing expansion and specification calling for HFC-227ea main and reserve, DIS would virtually not install the agent at all. They are currently working with that mining organisation to change their specification to a non-scheduled extinguishing substance.
By the time the phase-down reaches its end point in 2036, Australia will have reduced its importation of HFCs by 85 per cent. By then, Neil envisages the use of HFC-227ea being low, and importation almost non-existent.
"I'd be very surprised if people were still importing it by then. What I think will happen is people will just be recovering the agent for service works – that's what we do now – but I can't imagine many people importing it," he says.
While HFCs are still readily available in Australia, it appears the phase-down is helping to shift the mindset of suppliers and customers alike.
While the phase-down is an enforced regulatory requirement that Australian importers must abide by, a voluntary willingness from suppliers to promote the use of alternatives to HFCs seems to be emerging.
Revised Australian Standard hits the shelves
Standards Australia has released a new standard for water mist fire protection systems. AS 4587:2020 is the latest Australian Standard covering the design, installation, and commissioning of land-based water mist systems.
Further information about this standard can be found in the March 2021 edition of our GasBag newsletter.
Santos Port Bonython opts for fluorinated ketone
Santos, one of the most prominent independent oil and gas producers in the Asia-Pacific region, has transitioned to environmentally cleaner extinguishing agents. Santos removed all of its HCFC Blend A cylinders from their Port Bonython processing facility in South Australia, replacing it with fluorinated ketone. To learn more about Santos' decision-making process, review the March 2020 edition of our GasBag newsletter.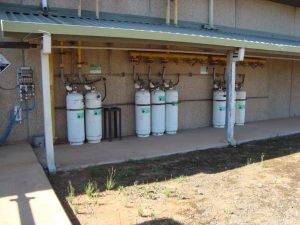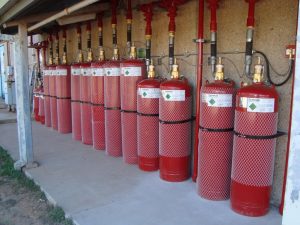 Before and after: Santos Port Bonython removed its HCFC Blend A containers (pictured left) in favour of containers that use fluorinated ketone (pictured right).
New ISO standard for Oxygen reduction systems 
The newly published Standard ISO 20338 Oxygen reduction systems for fire prevention (ORFPS) – Design, installation, planning and maintenance, provides another alternative for special hazards system designers and end users to consider when evaluating options for the protection of critical infrastructure or assets.
ISO 20338 which was published in late 2019, specifies the minimum requirements for the design, installation and maintenance of ORFPS, including those required to ensure safety of personnel.
Whilst ORFPS are a relatively new arrival on the fire protection scene, they potentially offer some intriguing benefits for some applications where gaseous fire protection systems might normally be used. ORFPS are designed to create and maintain an oxygen reduced atmosphere (typically below 15% oxygen) within an enclosure to prevent the ignition of combustible material.
It is important to note though, that the installation of an ORFPS, whilst theoretically preventing the initiation and propagation of fire, does not negate the need for installation of other fire protection systems, such as smoke detection and alarm systems.
Some of the potential benefits of ORFPS include:
Continuous (24/7) flaming fire prevention
Elimination of damage from flaming combustion
Environmentally friendly as no ODP or SGG are used
 Potential applications include:
Archive stores
Electrical switch rooms
Data centres
Warehouses
Museums and preservation of historically significant artefacts
Sydney Metro opts for IG-55
Inert gases are naturally occurring, non-toxic gases found in the earth's atmosphere that do not react chemically with other elements or compounds and do not deplete the ozone layer.
Inert gases used in fire suppression reduce the amount of oxygen available to the point that fire cannot be sustained while remaining at levels safe for humans. IG-55, which is made up of 50% nitrogen and 50% argon, is one of the inert gases used in fire suppression.
Sydney Metro opted to install a fire suppression system containing IG-55 in the new control room at Rouse Hill. A Sydney Metro spokesperson told the Board that it worked closely with principal contractors to successfully deliver the project and meet its sustainability standards and targets.
"In this specific instance [installing IG-55] the requirement of the use of a zero-ozone depletion potential gas was stipulated in the contract, including having a minimum global warming potential, not detrimental to human health and is approved and permitted for use in NSW," the spokesperson explained.
The decision to use a non-ozone depleting-substance has already paid off. In July 2019, an accidental discharge occurred in the Rouse Hill control room. Having an IG-55 fire suppression system enabled Sydney Metro to avoid emitting a large amount of environmentally harmful chemicals usually required in applications such as control rooms.
The Northwest Operations Control Centre
The Sydney Metro spokesperson outlined the project's sustainability model.
"The project has a sustainability plan which aims to minimise our global warming potential and the use of alternative substances for fire suppression was part of that approach. From Metro Trains Sydney's perspective [Sydney Metro's operator], the safety risks and regulatory framework associated with the use of IG-55 are lower, and therefore provided benefits in an operational context," the spokesperson said.
For Sydney Metro, developing effective and appropriate responses to the key challenges of today and tomorrow, such as climate resilience, is a key pillar that underpins its sustainability model. "Sydney Metro will continue to focus on reducing our impacts on climate change and reduce high CO2 potential substances where suitable alternatives exist," the project spokesperson added.
By choosing to move away from ozone depleting substances (ODS) and synthetic greenhouse gases (SGG) to cleaner alternatives such as IG-55, the project has paved the way for other major organisations to follow suit.
To read more about Sydney Metro's approach to sustainability, click the following link:
www.sydneymetro.info/our-approach-sustainability
To read more about alternative systems used in fire protection, refer to this FPIB factsheet:
fpib_alternative_systems_brochure